Colorful未来
First chapters release!! + Updates.
---
Good day/night everyone! This month we have something amazing besides the usual updates to share with you 😊
This month we are releasing…
The game's first chapter!!🎉🎉
Yes! You can play every characters' FIRST CHAPTER FOR FREE!! Right now! YEEEAAAHH!!🎉🙏🥰
Ohoho, who was expecting that? I know we had mentioned it before, but it's still surprising, huh? 😁
Our main plan was to release this chapter on September 10. However, we had to change it halfway there lol so, yeah, you can have fun with it earlier.
Alright, enough of it! Let's talk about what really matters.
This new download includes:

Prologue + Fabian, Millo, Cooper, Joseph, Landon and Eli's first chapter.
The chapters allow you to make choices to progress in the story. Those choices also have an impact in your relationship with the chosen LI.
English and Portuguese language options
Blind friendly (Self-voicing and ALT text for images)
RenPy's accessibility menu for font's features
Nice, right? You'll be able to see all the progress we have been talking about in the past weeks. And we are so, so, SO EXCITED to know what you'll think about it! So don't forget to leave your feedback later. It'll help us to improve🤗

With this chapter release, it was brought to our attention that we haven't talked about the full game being free or paid before. So let me take this time to clear this doubt.
We plan to make it paid, but we have no idea of how much it'll cost yet.
The final price can be 15 or 10 or 5, it all depends on what we are going to add to the game in the future and what it will cost us. There's also the possibility of adding more features, more art and the original soundtrack... All this stuff will come into debate once the game is complete, that's why we can't reach a conclusion now and that's also why we didn't mention it before😅
But this is a matter for the future, for now let's just enjoy what we have around for you 😊

Before you go download the chapters, let's talk about the month updates!
This time we have done:
1. Fabian's Full route + his 2 endings were added to the game.
His second chapter is already edited and is going under revision.
The third chapter is 20% revised.
2. We already have two CGs past the start line phase. And more is in the way.
We don't want to spoil the game so we won't share the CGs. We'll talk about the progress, of course, but no images.
3. Fabian's two new backgrounds are done and in game.
As said in a previous log, every character has their own individual background. And, surprisingly, Fabian has a curious one🤔
4. Now Colorful MIRAI also has a Tumblr page!
We are posting all the updates and art we usually share on twitter. So, if you want to see more content, feel free to follow us there.
5. Relationship Chain.

We did this for fun, but mostly to cleafy the character's relationships with each other. They are all so messy😅
That's it for the updates. But- wait! DON'T GO YET!
We have one last surprise for you👀👀

As many already know, Spooktober Jam's is happening this month. It's a contest where the participants need to submit a Halloween VN to have a chance to win prizes.
(By the way, there's still 4 days left, if you want to join this is your chance!)
When we first heard about it, we thought:
"aa, this is so cool… we love halloween, but… ugh, our hands are already full of Colorful MIRAI's work… we can't-"
But then a fabulous idea popped in our minds!
"What if we join it to make… a halloween DLC for Colorful MIRAI!"
MC and the boys in a horror story?! A FREE HALLOWEEN DLC?! Yes, this would be awesome!
So, to sum up, we joined the jam😅
For now, there's only a few art concepts in papers. We are still planning the plot and thinking about what to do since the actual work only starts in September. But even so, we wanted to share this news with you as soon as possible❤️
So, yeah, we'll share better news next month👌 The updates will happen daily on Twitter tho.
But because of the jam's work, we'll have to slow down Colorful MIRAI's progress a little bit. But don't worry! We'll keep working on it 😊

Last, we'd like to thank everyone for the 1000+ downloads mark we hit last week😭🙏❤️
You guys really...😭😭❤️We can never thank you enough. But we promise to keep sharing all our love with you in every update.
It's been a real ride the past months and we are very glad you took the seat next to us and kept our energy up on every road we crossed.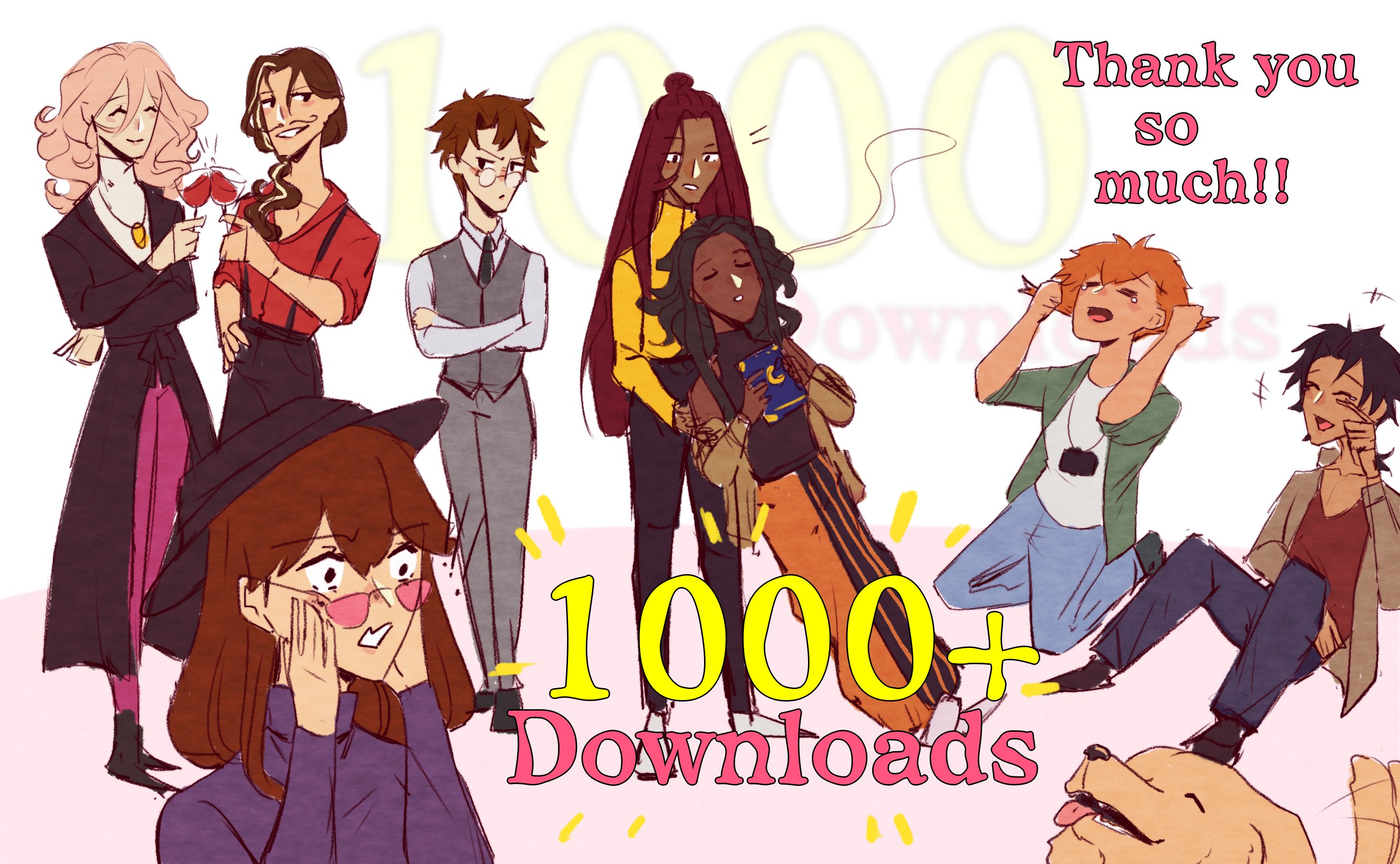 Thank you all so much! We'll keep working hard today and the next months to bring the best for Colorful MIRAI❤️
--
And... That's it. Now you can go and meet your favorite LI in his first chapter😍

We hope you enjoy it and have fun with the characters the same way we had while working on it.
Thank you so much for waiting and for supporting the project in every way! 💕
See you next time ✌️
————————————————————————————
We often talk about the characters, make polls, share updates and progress on twitter. So, if you are interested in more info or have any questions about the game, follow us HERE!
Files
Colorful MIRAI - Demo + First chapters (PC).zip
308 MB
Aug 27, 2021
Colorful MIRAI - Demo + First chapters (MAC).zip
274 MB
Aug 27, 2021