Colorful未来
Hello everyone and welcome to Colorful MIRAI's new update!
Wow, it's been a month since the last log 😱 and omg Halloween is right around the corner!! Talking about it, how are you all doing? Planning the costumes already? 👀 We are the same as usual, but this time dressed as ghosts😅
But, yeah, here we are. And today we are going to talk about the new changes and the month's updates. So, let's go!

Let's start by talking about the update that happened this week.
I think some of you may have seen it in your feed last Friday. New pictures and two new files, right? Have you downloaded it yet?👀 If you haven't, don't worry, we are going to talk about it right now.
As everyone knows, we joined the Spooktober VN jam in September. We did that beautiful Halloween DLC, and we were very satisfied with the results. But then, when we went back to work on Colorful MIRAI, we felt that something was lacking… I think it's because we did so much for a side-story within a month that it started to bug us on why the main game wasn't looking that good within a year 😅
That's when we decided to rework the GUI.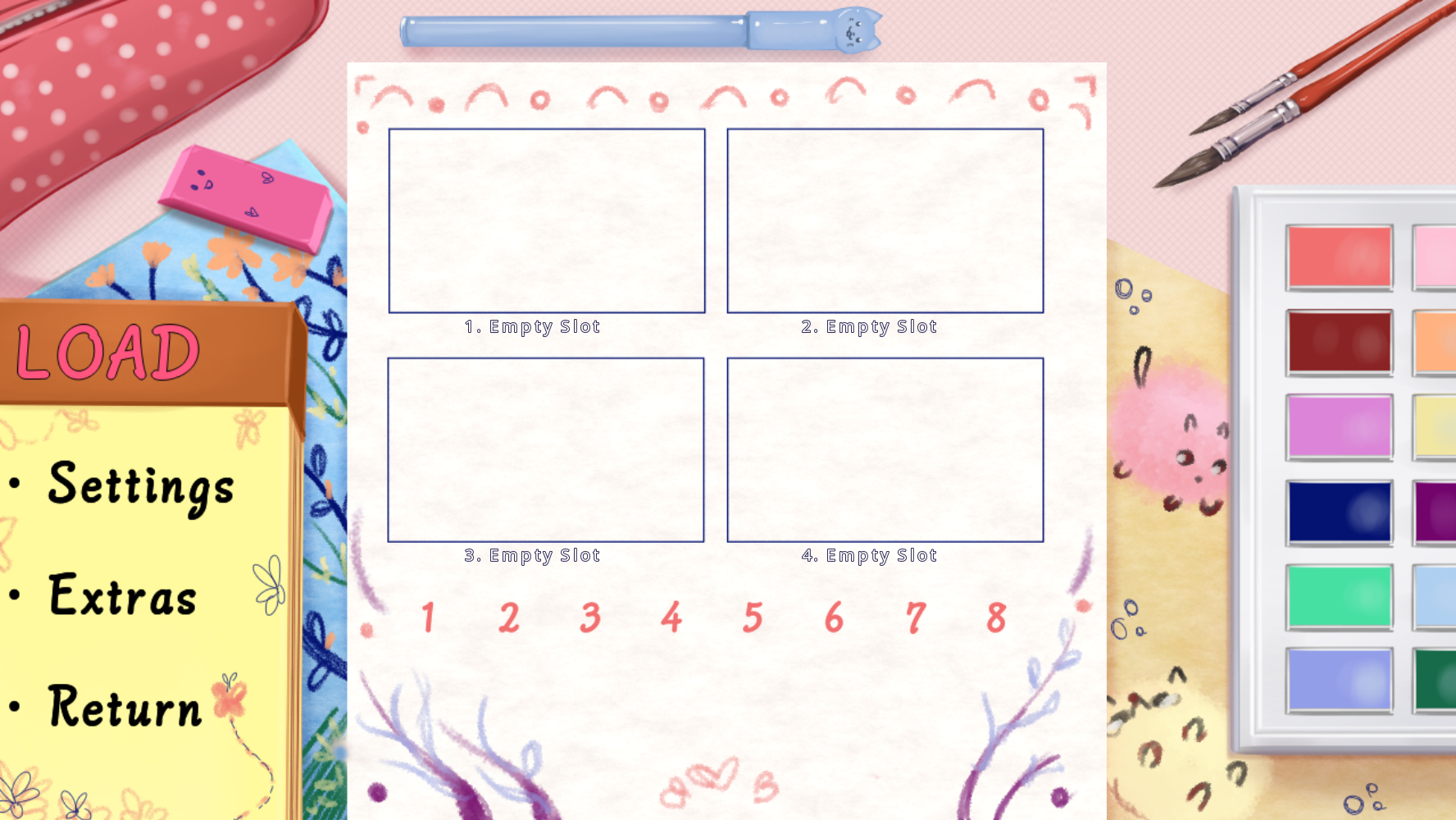 So, to sum up what happened last Friday, now we have:
New menu
New load/save screen
The extra page is open and there is a cute surprise waiting for you
Fixed typos
Added better alt text
I know I'm a little biased here, but everything is looking stunning! The new main menu is just the cherry at the top.
I'm so lucky to have Alex on my side to create such beautiful things🥺❤️
The story is still the same, of course, but the screens are visually better and more connected to Colorful MIRAI's theme.
There are a lot of changes coming to this game. Things will come and go, but every time it happens, it'll be in favor to make this game better for you 😌
We sincerely hope you like it.

Now. The month's updates!

We have spent a lot of time promoting the DLC and working on CM's updates this October. And, of course, we have some news to share with you.
So what's done by now?
New GUI
Fabian's 3rd chapter is 100% done (waiting for revision)
3 CGs' line art (Fabian's route)
Game length is getting longer
And more art is coming!!
We also fixed the typos and added the Portuguese translation to Spooky Edition DLC!!
If you haven't played it yet, here's your chance:
For the next month, we hope to finish Fabian's 4th chapter and both endings. Since his BGs are all done, we'll also focus on the CGs.
We sure have a lot in store for you👀
And this is it for the updates.
I also would like to say that Colorful MIRAI reached 2k downloads last Friday and Spooky Edition is getting closer to the same number🎉🎉 Thank you all so much!!!!
This is so crazy! We never expected to get even close to such a number. Especially with the DLC😭🙏
All the love and support we have received is blowing us away in such an emotional way. So, when I say that your views/words/downloads mean the world to us, I really mean it.
From the bottom of our hearts, thank you so much for giving us the chance to show you our work and for receiving us so well.
Thank you so much for sticking around, waiting, and for supporting the project in every way! 💕
We wish you all a happy Halloween, and we hope to see you again next month!🤗
---------------
We often talk about the characters, make polls, share updates, and progress on Twitter. So, if you are interested in more info or have any questions about the game, follow us on Twitter and Tumblr!
Files
Colorful MIRAI - Demo + First chapters (PC).zip
284 MB
Oct 22, 2021
Colorful MIRAI - Demo + First chapters (MAC).zip
250 MB
Oct 22, 2021