Colorful未来
Halloween DLC OUT! + Updates!
---
Hello everyone, how are we doing this Sunday morning/night? I hope it's great for you there. But in case your day isn't treating you so nice, we have a little thing to cheer you up🤗💜
So, last month we talked about taking part in the Spooktober Jam this year, right? The good news is, our game is done and out!
Wow, still can't believe it's been a month already. We have been working every day since the jam started and it's been intense 👀👀
We start the first week with redrawing the sprites, creating the GUI and writing the first draft for the story.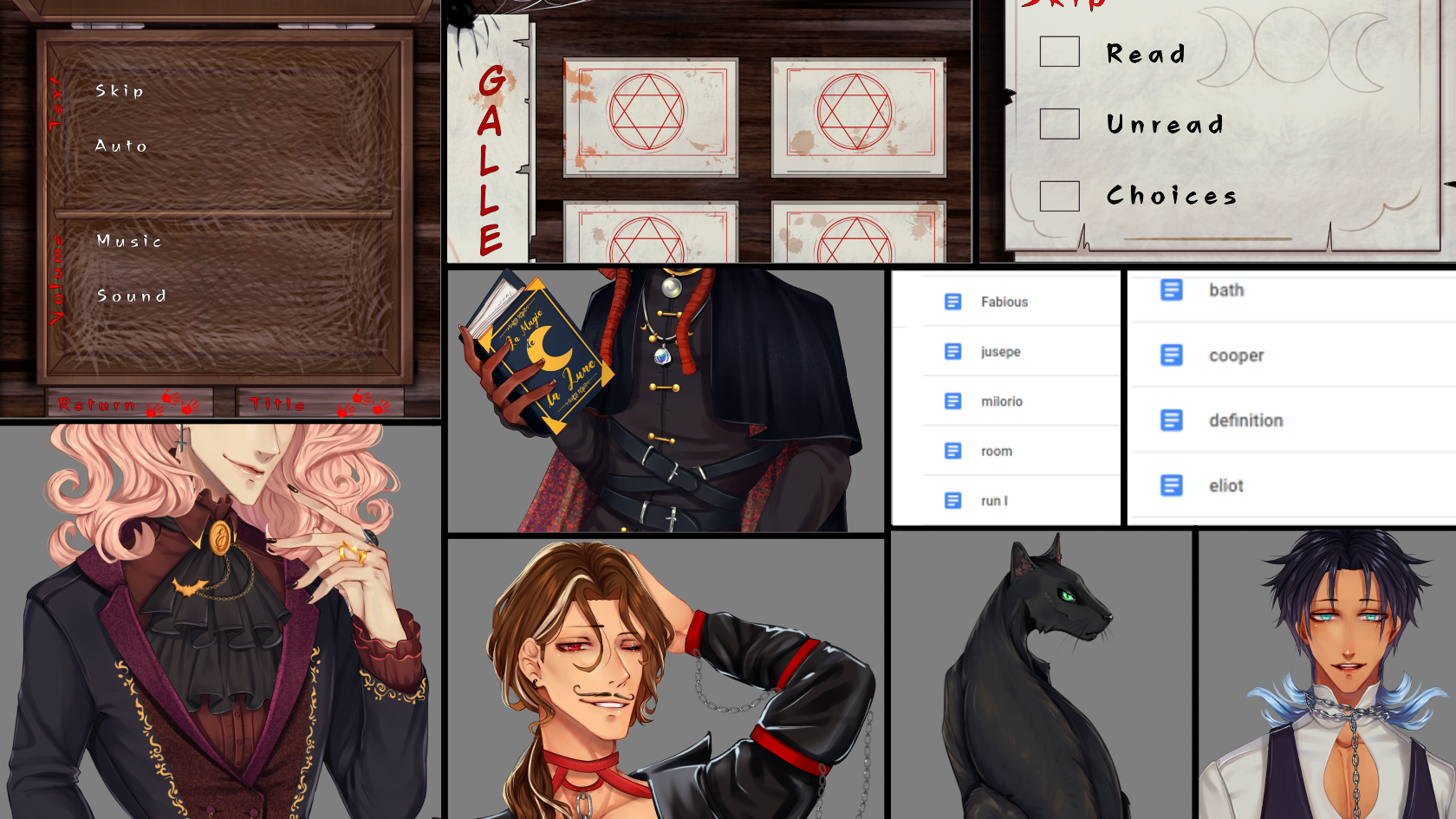 The following week was about backgrounds, game cover/logos, coding and turning the draft into a real story.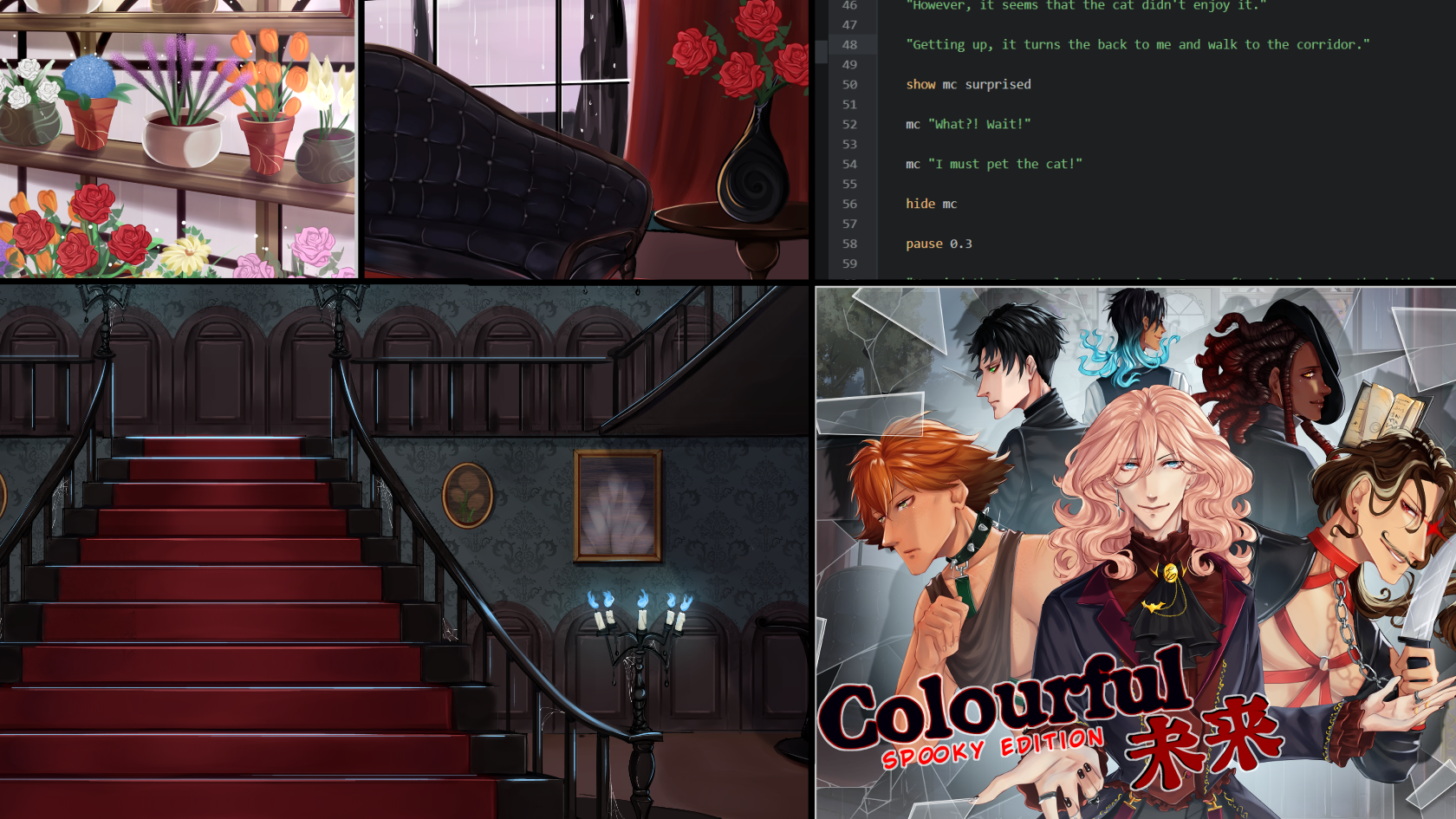 In the last week we did the final bgs, 8 CGs, final coding and editing/revision of the story.
We also did lots of things in the middle of this work, like bonus illustrations, itchio/vndb page, search for CC sounds and new coding learning!😱😱
We went sleep deprived, Alex ended up in a hospital and Bear had two breakdowns in the final week....👀 this wasn't part of our fun plan at all lol but it happens😩
When people go under too much stress and deadlines it can affect your body with no mercy 😔 That's why we are going to take a break this week so we can be back in October with our energy restored and boosted up to work🥰👌
What really matters is that now we are good and soooooo happy to share this with you all💛💛
Now. What you need to know about this DLC?

First. The plot.
"After being invited to an art exhibition, the MC finds herself lost in a forest. As if it wasn't bad enough, an awful storm falls upon her and the only shelter is a mysterious house on the top of a hill."
The whole concept behind it is: MC and the 6 LI's taking part in a horror stage play 😆 so this is more of a Halloween comedy story.
We never meant to make this side story a big and complex one. We actually focused on making it fun and enjoyable for our players.
So yeah, go enjoy the hot boys at it's finest 😩👌🔥
Second! The features.
The game gives you:
Customizable Name
40k words!!
6 endings
8 CGs!!
Original backgrounds
CG Gallery
Endings' Walkthrough
Blind friendly (Self-voicing and ALT text for images)
Deaf friendly (Audio description/subtitles)
We are going to add the Portuguese translation in the next updates❤️
This is our very first full game release. Although we always think we could have done more, I think we actually did a lot within 24 days. I only hope everyone can enjoy it as well 🤗🤗
Let's talk about Colorful MIRAI's official game.


Like we said last month, we had to slow down the progress to make the DLC happen, BUT we have some small updates for the next month.
Thanks to this jam we learned new tricks and codes. If you play the DLC you'll be able to notice some different transitions and animations happening with the sprites.
Those are things we are going to add to the official game as well.
You will also be able to see how beautiful the CGs looks. Alex is really amazing.
This is a small peek of what we are planning for Colorful MIRAI 😊💚
We learned a lot to make the whole experience in the official game better.
Next week we'll be resuming back to work on Colorful MIRAI. Which means… We'll be finishing Fabian's route and moving on with the next boy!🎉🙏💙

Last, we'd like to thank everyone for your continuous support. Things have been crazy over here, but every time we see new comments/reviews or downloads, it motivates us to keep going.
You guys have no idea how much it means to us. So thank you so much🧡🧡
Now, please, enjoy the DLC and have fun with the boys 💗 They are eagerly awaiting for you 😈😈
Thank you so much for sticking around, waiting and for supporting the project in every way! 💕
See you next time ✌️
————————————————————————————
We often talk about the characters, make polls, share updates and progress on twitter and Tumblr. So, if you are interested in more info or have any questions about the game, follow us HERE or HERE!